Right, so as you may or may not know, back in the beginning of the year my friend Noreen & I made a bet and that the loser would have to pay for the winners' Bon Jovi concert ticket. So this past weekend was the weekend.

We had a great time, but I'll write a post about it later, when I have some pictures to share. For now I'm linking up for

Musical Mondays

with My so called chaos.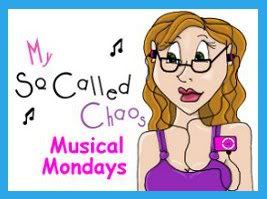 Because we can
I don't wanna be another wave in the ocean
I am a rock, not just another grain of sand (that's right)
I wanna be the one you run to when you need a shoulder
I ain't a soldier but I'm here to take a stand because we can
She's in the kitchen starin' out the window
So tired of livin' life in black and white
Right now she's missin' those technicolour kisses
When he turns down the lights
But lately feelin' like a broken promise
In the mirror starin' down his doubt
There's only one thing in this world that he'd know
He said forever and he'll never let her down
I don't wanna be another wave in the ocean
I am a rock, not just another grain of sand (that's right)
I wanna be the one you run to when you need a shoulder
I ain't a soldier but I'm here to take a stand because we can
Eatin' takeout on a coffee table
Paper dishes, pour a glass of wine
Turn down the sound and move a little closer
And for the moment everything is alright
I don't wanna be another wave in the ocean
I am a rock, not just another grain of sand (that's right)
I wanna be the one you run to when you need a shoulder
I ain't a soldier but I'm here to take a stand
Because we can, our love can move a mountain
We can, if you believe in we
We can, just wrap your arms around me
We can, we can
I don't wanna be another wave in the ocean (I don't wanna be)
I am a rock, not just another grain of sand (that's right)
Wanna be the one you run to when you need a shoulder
I ain't a soldier but I'm here to take a stand
(I am a, I am a, I am a...)
Because we can
I don't wanna be another wave in the ocean
I am a rock, not just another grain of sand (that's right)
I wanna be the one you run to when you need a shoulder
I ain't a soldier but I'm here to take a stand
Because we can (because we can)
Our love can move a mountain
We can, if you believe in we
We can, just wrap your arms around me
We can, we can
Because we can