Time flies when you are having fun ... well I'm not so sure about the having fun part but time is really flying! What is up with that?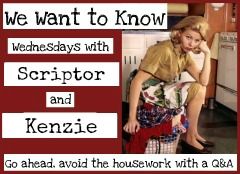 Do you want to join the fun? It is super easy. All you have to do is:
1. follow both Kenzie & Scriptor (aka Incognitus scriptor)
2. inlcude the super cute button in your post
3. link-up & spread the word
4. last but not least - have fun!

Here are my answers to this weeks questions:
--Questions & Answers--
1.) How connected are you to your phone? Do you always have it on you?
I have it with me all the time but it is ancient so I only use it to call or text.
2.) Would you be able to be away from your computer for an entire week?
If it was just a normal week, at home, heck no! But if we were away on vacation at the beach, yeah easily.
3.) If you had to get rid of one of the following, which would it be and why? Cell phone, computer, or TV?
TV - not because I don't watch TV, I'm pretty much a TV addict, but because I was all my TV shows on my laptop.
4.) Do you think you could ever live "off the grid"?
I don't know. Probably not. At times I think it might be nice, but then I have to be brutally honest and admit that I like technology and all that it enables too much. Plus since we live very far away from most of our family it is essential for keeping in touch. If the whole entire world were to become cut-off like in Revolution I guess you would get used to it and life might have been simpler in some ways before the rise of technology but you can't stuff the genie back in the bottle, can you.
5.) Tell us about a time you disconnected from technology/the world and how you dealt with it. Was it good or bad?
I don't think it has ever happened in the past, say 15 years of my life. Not totally anyway. Even on vacation there has always been TV to check & keep up with what is going on in the world. Plus I also read newsletters as much as possible to stay up to date even when on vacation.