I know, I know, I'm a day late, again ... hey, I live on the other side of the world.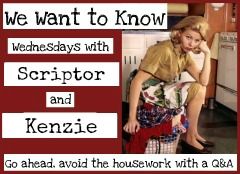 1.) How were you as a student?
Mmh lets just say that if I were to go back to school today, knowing what I know now, I probably would have worked a little harder. I was not the worst student but I was by no means a straight A student.
2.) What was your favorite subject and did you excel in it?
English & Geography - Loathed Math, still suck at it.
3.) What - if any - is your fondest school years memory?
I have loads of good memories from high school. That is, after all when I finally met Himself. But I went to a really small school, on a farm so everyone knew everyone. Plus we got into loads of trouble for some rather innocent pranks and behaviour.
This photo was taken my last year of high school - it is the entire school plus staff. I'm in the top row
4.) Did you attend college and if so, how was that experience?
I did not. Was accepted for teachers training but before I got there things changed and I never did go.
5.) Would you go back to school - be it in person or online - if you could? (Or to earn another degree?)
I have thought about doing it quite a bit over the years but we've either never had the funds for it or just not the time. Plus, someone in our house needs to hold down a 'normal' 9 - 5 job
Now, if you haven't yet linked up do, it's fun.